We all know the classic wedding traditions: being walked down the aisle by your father, the bouquet toss, cake cutting, etc. We love these classic traditions, but it is becoming more and more popular to add in newer traditions to weddings like lighting a unity candle or sand pouring ceremonies. However, classic traditions are timeless and fun, which we love here at T+T! Here are our top 5 favorites!
If you are like me you might be asking what the heck is a sixpence?! Well ladies (and gents), a sixpence is an old type of British currency. Ok, that's great but why should it be in your shoe? Everyone know to wear something old, something new, something borrowed, and something blue, but what most people don't remember is the ending. It's supposed to end with "…and a sixpence in your shoe". A sixpence given to a bride by her father, and worn in her shoe, is supposed to good health, wealth, and happiness to the newlywed. We could all use that right?
Photo: Pinterest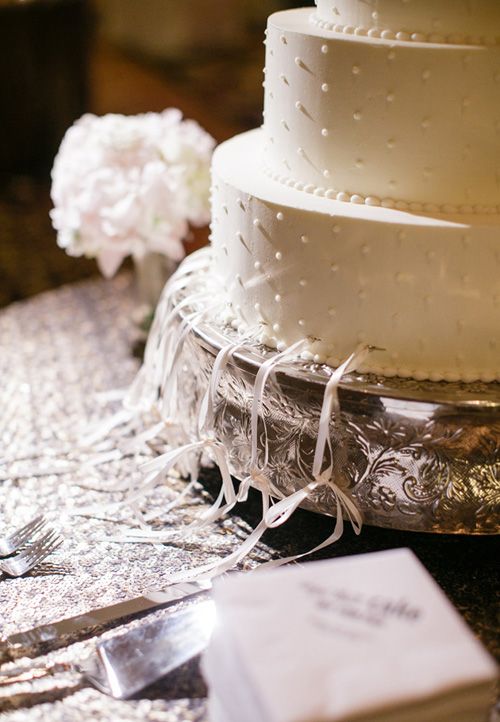 This is an old southern tradition but dates back to the Victorian Era. Little charms, with a ribbon attached, that represent fortunes are baked into the wedding cake with the ribbons hanging out. Before the cake cutting begins all the single women have an opportunity to pull one of the ribbons out and receive their fortune! This is such a fun way to include your guests in your big day!
Photo: Pinterest
I LOVE this one! So, this is a really great way to let your new hubby's personality shine! This tradition started in the late 1800s, back then the normal wedding cake was considered too "feminine" for the groom. So, he got his own "manly" cake. This makes me laugh a little, but it really is an awesome tradition. The groom's cake can be anything! Golfing or football, his favorite video game, his alma mater, any theme that shows his personality or favorite things is perfect. Sometimes grooms can feel like they don't have much say in their wedding and this is a way to make him feel extra special!
Photo: Pinterest
I am all about anything that brings luck on your wedding day, you can never have too much luck right? This super fun southern tradition is supposed to hold off rain and make sure you have a sunny wedding! One month exactly before the wedding the bride and groom are supposed to bury a bottle of bourbon at the ceremony site to ensure good weather on their big day! Please note that the bottle does need to be full and buried upside down for maximum effect. Don't worry you can dig it up and enjoy it as soon as the ceremony is over!
Photo: Style Me Pretty
I think ring warmings are incredibly sweet. The original way of doing this was that during the ceremony the rings would be passed around through the guests so that by the time they'd make it to the bride and groom they would be warm. The guests could say a blessing or prayer over the rings to bring good vibes too the newlyweds! However, I feel like I'd be nervous about people losing track of the rings in the middle of the ceremony so here's a slightly more modern way of doing it! I recommend having a designated person be in charge of the rings and allow guests to hold them and say their blessings as they come into the ceremony. This way you know exactly who has your rings, the designated person can explain the tradition to people who aren't familiar with it, and it will all be done before the ceremony starts so that your rings be up with the best man! It is a really sweet way of including your guests in your big day and you can never have too many good vibes!
Photo: Michelle Lindsey Photography
Have a purrr-fect day!!
-Maddie-